Regional Group Trademark Registration
"Black Garlic of Aomori" obtained regional group trademark.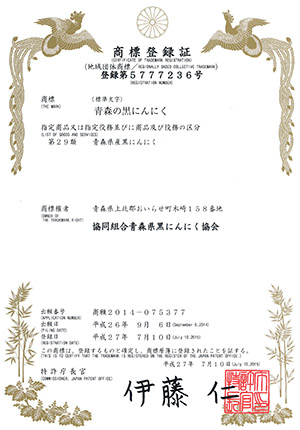 Regional group trademark application requested on September 6, 2014 was approved and registered on July 10, 2015.
The regional group trademark registration system is a system introduced for the purpose of properly protecting regional brands, which is the eighth brand in Aomori Prefecture.
Although there are wonderful brands such as "Takko Garlic" and "Oma Tuna", brands that limited to the particular areas, "Black Garlic of Aomori" is the "first" brand that is widely certified and accepted in Aomori prefecture.
"Black Garlic of Aomori" begins with the gathering of multiple manufacturers that started manufacturing Black Garlic from 2006 to 2007 under Tohoku Bureau of Economy, Trade and Industry (2007 Coordination of Local Community Utilizing Regional Resources Cooperative Activities), the commencement of the product certification system by a third party organization aiming for being recognized as local special products.
Later, each member of the association expanded sales from nationwide Japan to Asia, Europe and the U.S., and the products became well acknowledged by customers, which lead to branding of today's "Black Garlic of Aomori"
On July 23, 2015, we reported to Mr. Shingo Mimura, Mayor of Aomori Prefecture again. In FY 2014, the total sales of Black Garlics that our union members shipped was 1.2 billion yen, however, we swore to grow the sales to 2 billion by 2020, and 3 billion by 2030, to advance into further overseas market, and to remain and develop as a prosperous local industry.